Bill Bakaleinikoff and his Robots ...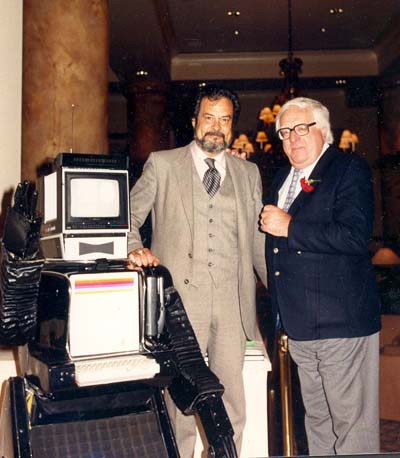 Ray Bradbury and Bill and the Pepsi Cola robot. The robot was built by Gene Beley, who will include this photo in his book "Ray Bradbury Uncensored", to come out soon.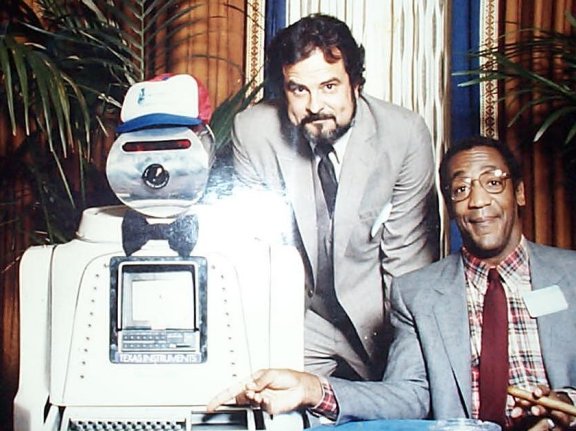 Bill with "Robot Redford" and Bill Cosby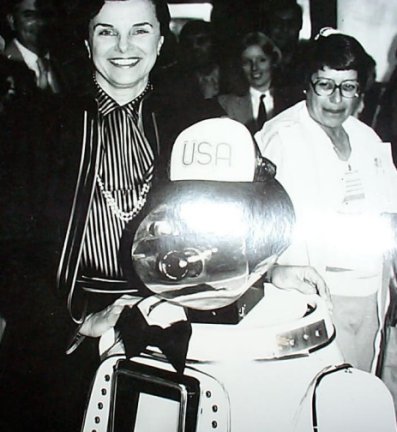 Dianne Feinstein with Robot Redford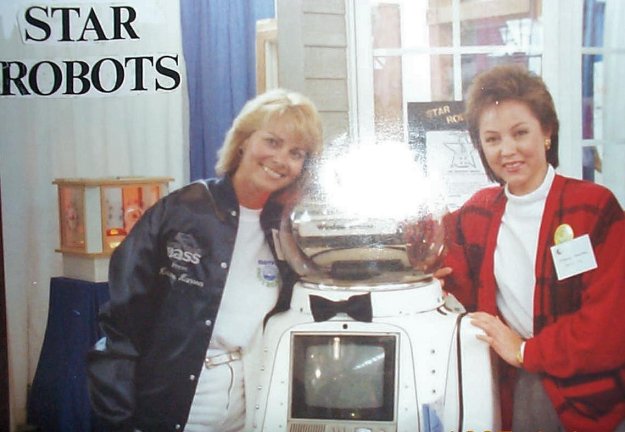 "Robot Louis Stevenson" with a couple of San Francisco news anchors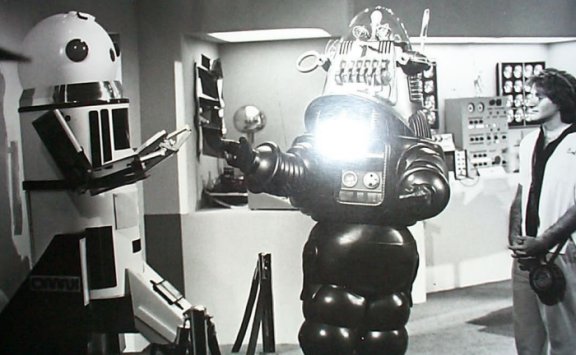 Robin Williams and "Argon" on left, "Robby" from Lost in Space on the right
Also, add Forbidden Planet to Robby's credits. Yes Robby (they built two) was originally built for the movie by Robert Kinoshita however, the robot got far more coverage in the television series (people forget how large the television audiences were then) and that is where he is most remembered (lots of people didn't see the The Forbidden Planet). The Forbidden Planet (1956) being one of the first 'A' science fiction movies; however it was not the first, the first major ('A') science fiction (space) was War Of The Worlds in 1953. As to who was a bigger star at the time Gene Barry (WOTW) or Walter Pidgeon (TFP) is hard to say (ok ok ok Walter was still a big star then and everybody knows his name today instead of saying Gene who?). Ann Francis (TFP) almost made it as a famous star but fell a bit short) Gene went on to a very popular television series (Bat Masterson) and Walter did make many more movies (the guy really did have an amazing career). Interesting side note that Les Tremayne played in both movies. War Of The Worlds was nominated for two academy awards.
In the long run (perhaps by now) The Forbidden Planet will obviously create new fans and will bring Robby to a new generation of fans world-wide through the DVD rentals where as the re-runs of Lost In Space will all but have faded away. However, some say that Robby's greatest dramatic performance was when he played opposite Argon the Robot in a Mork & Mindy episode. You could see the tears flowing in the studio audience. I can still hear the applause and smell the grease paint and yes I miss the lights camera and action. They don't make stars anymore......I still remember my lines as if it was just yesterday............"I am sorry Mork".