Ranger Bill Stories
by Bill Bakaleinikoff

Finally, a versatile organic low-carb snack you can sink your teeth into. Yes, Ranger Bill's Dairy Products International does it again with our new patented 'Free-Range Low-Carb Mongolian Wild Yak Anal Pastries'. These *tasty snacks are low-carb to help you stay fit and trim. And they are versatile too!
How do we keep the carbs out? It is simple. Our wild, free-range Mongolian yaks do the work for you and then pass on the bounty to you the consumer. And because Ranger Bill's yaks eat nothing but free-range wheat and grains (less than 80% injected steroids) you know you are getting only the finest *organic anal pastries money can buy. You see, Ranger Bill's wild yaks simply suck the carbs right out of your tasty snacks; they do the work for you. All you have to do is pop these tarts into the toaster and you are off to a healthy breakfast adventure. And if you happen to detect any other foreign chemicals in your pastries you will get a *50% off coupon on your next purchase.
Oh, and did we say 'versatile'? Our Free-Range Low-Carb Mongolian Wild Yak Anal Pastries are not only tasty, they can be used for many non-eating events too! You can play lawn checkers, bobbing for pastries, pastry tosses, kick the pastry or hide and smell-out the pastry. Ranger Bill's Wild Yak Free-Range Mongolian Anal Pastries can also be used for sanding paper pads, garden stones, third world hut making, gopher bait, stink bombs, fuel, or just put them in your bra or trousers before a hot date. Think out of the box, just use your imagination.
So what are you waiting for? Order your truck load today! Only $29.95 per ton plus shipping.
*Organic is advertising slang for better sales.
*Tasty can also mean harsh, foul, smelly, rancid, or other things depending on individual tastes
* Chemical tests must be verified by the Mongolian Institute of Chemical Awareness.

Hi, I am Ranger Bill. How many times do you look into the mirror and say to yourself, "I wish I had my body back when I was in high school or college". Well, those days may be over, but you can still get that body back and more with Ranger Bill's new and improved "Body Succulent" . Yes, Ranger Bill's "Body Succulent" can transform your body into a youthful muscular work of art in only minutes. Impossible you say? At Ranger Bill Labratories™, nothing is impossible. And you don't have to stop at just looking like you did forty years ago; you can pick a body that will make you look even better!
How would you like to have *Arnold Schwarzenegger's body, The Rock!, Britney Spears, Tarzan or even Paris Hilton? Well you can and you don't have to diet, exercise, or even take steroids. Yes in minutes you can have the body you want with no fuss or muss and it is as simple as getting dressed. Just picture yourself at the beach flexing those muscles while you show off those new powerful legs and rippling chest muscles; or proudly waving a rack that would spark envy at Hooters while showing off your new string thong.
How many of you guys have nightmares of getting 'bitch' slapped by Richard Simmons in front of your date or family? Or ladies, have you ever been embarrassed when the box boy says "Can I help you out with those bags Mam" and you have to explain to him that those are your breasts. Ranger Bill knows how these silly little insults can make people insecure. Those days are over. With your new Ranger Bill "Body Succulent" you can go swimming, lay out by the pool or on the beach, hike, play tennis, or even star in porn films again. With a perfect body, you will want to get out more and enjoy life! And it is simple and easy!
Ranger Bill has invented a new and improved zip on body glove that has built in muscles or boobs. Using only the finest skin from wild Yaks from Northern Mongolia, each one size fits all body suit feels like real skin because it is. You see, *Yak skin automatically stretches and shrinks to fit your body; (don't ask me how) and their livers and lungs make great breast and muscle implants. And that's not all for you guys out there! Those Yak outer organs will make you stand out in any crowd! And you can have your "Body Succulent" *skin dyed to match your face's own coloring! *Just step out of your clothes and step into a new body! You'll feel sassy!.
What are you waiting for? Step into your new body today. Male Body Succulent is only $49.95 (pubic hair and outer body organ sold separately) Female Body Succulent is only $59.95 (ask about pubic hair special).
*One size fits all is only a manor of speech.
*Look in Ranger Bill's Catalog 2004 under shoe dye.
*Wild Yak skin smells like the inside of a goat's butt.
*We just use these famous names to make sales.
*Do not wear near Zoos.
I created "Ranger Bill." about six years ago on a different website. He is a character that is so outrageous that he caused a lot of stir; he has no social bounds and is totally unaware of social graces; he sees life confined to his own personal greed. He sells you things you don't need, he lies, he cheats, and he feels secure because he has 50 lawyers behind him. However, there is always the 'kid' in him where you know that he dosen't mean harm, he just doesn't know better. In a very strange way he is like-able

As I told Bob and Carol, Ranger Bill is now on the net in over 78 countries world-wide and he is a humorous reflection of greed gone bad. Ranger Bill is not political, and as his creator, never my motive, he (Ranger Bill) however, reflects a camera's eye view of what he sees. He (personally) is just full of pure greed and totally thoughtless; but if you look and read long enough, Ranger Bill has a lot to say about life. Yes, he steals cookies from the Girl Scouts tables in front of super markets, his rent-a-rooms are supplied by the local hospices, and his 'road kill scrapper" (I thought about one or two P's) crew provides food for his fast food operations. Enough, Ranger Bill feels a tear coming on.

When I do Ranger Bill, I will post it instead of William Bakaleinikoff, but I will still post from Miramar CA. as my address. I have been fortunate that my readers have been able to separate me, William Bakaleinikoff from Ranger Bill and I hope that I can do that here. You are the people I grew up with, and probably the most important to me as an honest critic, (hell, my biggest audience is skate boarders and meth freaks along with politicians) who I can fleece.........or wait...no.....This is Ranger Bill talking not me..........Hey,...Ranger Bill is coming to this website very soon. I hope you will like my humor and satire. Thank you Bobby and Carol (you too Karen) for making this thing happen. Oh, come on "Small People" man you're watching this too!.
William Bakaleinikoff
Miramar, CA USA - Monday, April 12, 2004 at 03:45:49 (EDT)

Are you tired of being the 'Wimp' on your the block? Are you intimidated buy those mammoth sized Lincoln Navigators, giant Dodge dualie pickups, hotel sized motor homes or the ultimate intimidator; the fearsome Hummer? Well it is time to trade that Buick in and.... COME ON DOWN TO RANGER BILL'S 'JIHAD MOTORS' TAKE BACK YOUR NEIGHBORHOOD AND BECOME THE KING OF YOUR BLOCK! BECAUSE RANGER BILL'S 'JIHAD MOTORS' HAS JUST MADE A SPECIAL PURCHASE OF OVER ONE HUNDRED M2A3 AND M3A3 BRADLEY FIGHTING VECHICLE SYSTEMS

You'll be calling Mr Hummer Mr Sissy Pants when you pull up in your refurbished Bradley Fighting Vehicle fully equipped with the M242 25mm "Bushmaster" Chain Gun complete with integrated dual-feed mechanism and remote ammunition selection. You can use either armor piercing or high explosive ammunition at the flick of a switch! And for light weight stuff you can always depend on the M240C machine gun mounted to the right of the 'Bushmaster' which fires the 7.62mm economy round. These special refurbished Bradley's come equipped with power seats, power steering, power hatches, twenty- two cup holders, leather seats, air conditioning, four LCD screens for DVD movies or video games, Bill Blass designer tracks and posi-traction. But wait, that's not all...did Ranger Bill mention the dual TOW Anti-Tank Missles which can be fired with the included smooth tube launcher? Whoa Nellie! Talk about being the 'big guy'
on the block!

You'll be the pride of your local gas station owner when you pull up in your new Bradley Fighting Vehicle. The 600 horsepower turbo-diesel power plant sucks more fuel than three sissy Hummers and two girly-girl SUVs. What are you waiting for? Ranger Bill has the Bradley Fighting Vechicle for you whether it is the M3 or M2 (featuring eight M16 rifle ports for family members) you'll get the neighborhood respect you want and deserve; or else!

SO COME ON DOWN TO RANGER BILL'S 'JIHAD MOTORS' AND GET YOUR BRADLEY FIGHTING VEHICLE SYSTEM TODAY! *$100,000 INSTANT REBATE! 2.9% APR! $10,000 TRADE-IN ALLOWANCE ON ANY CAR YOU DRIVE OR TOW IN! SIX MONTHS OF FREE AMMO! AND 100 5 X 10 GLOSSY PHOTOS OF JOHN WAYNE TO THE FIRST 100 BUYERS!

*After receiving full purchase price of 2 million dollars. Not responsible for any neighborhood conflicts. Must be over 18. No War Lords please.

R.B. William Bakaleinikoff
Miramar, CA USA - Friday, April 16, 2004 at 15:13:37 (EDT)

Ranger Bill is deeply sensitive to the wants and needs of his vast customer base. And Ranger Bill listens and responds to sharp spikes in his e-mail inbox along with angry phone calls and poisonous reptiles in his mailbox. Aging and the products that go along with it can cause lots of emotional turmoil and issues. Therefore, after great thought, we have decided to pull Depends Plus off of the Islander Gift Store shelves (however, you can still purchase them through the Ranger Bill Spring 2004 Catalog on page 34) to avoid any ill feelings. Of course, it is understandable that Ranger Bill still has an obligation to make as much money as possible so the shelves will be instantly restocked with Ranger Bill's new and improved '*Doggie Dentures'. Never available in stores before.

Dogs like humans like to look their very best at all times. Unfortunately, many pet owners neglect their doggie's teeth which can cause some dogs to shy away from serious sniffing. Ranger Bill's K-9 Labratories did extensive reseach and found that dogs check out each other's teeth before personal sniffing is launched (just like humans). Buck teeth, snaggle tooth, wolf teeth or just plain missing teeth can really put a damper on your dog's social life. When was the last time your dog was sniffed from head to toe?

Well, you don't have to go to those expensive doggie dentists (maybe your own too) anymore. With Ranger Bill's new patented Doggie Dentures and easy to follow preparation manual, you can have your dog fitted within three or four hours. And dogs just love the smell of chloroform. Doggie Dentures are so afforable they can be used by family members too. They are cheap, and easy to install; your dog or family member can eat their favorite meal within weeks. With over five denture styles to choose from your dog or family member can pick the smile of their choice. The Doggie Dentures sell for only $29.95 plus tax. Kit and manual including pliers and chloroform sold separately.

*Doggie Dentures and Insta-Dentures are the same products only packaged differently. Installation can cause severe pain and possible infection.
R.B. William Bakaleinikoff,
Miramar, CA USA - Thursday, April 15, 2004 at 18:33:28 (EDT)

LETTERS TO RANGER BILL: From Mr & Mrs. Garth Shipley, Salt Lake City, Utah.

Ranger Bill, you are a crook! My wife and I read your brochure for "Hey Dude Ranch" and paid $5,995 for what was billed as 'The Greatest Experience Ever'. The brochure also went on to say that there would be horse back riding, hiking, square dancing, gold panning and many other activities aided by highly trained personnel; all in a luxurious resort setting.

Crap! The "Hey Dude Ranch' turned out to be a 1930's abandoned mining camp with a freeway going through it in the middle of the desert. The sound of the cars and trucks kept us up all night. Everytime my wife went to the one and only bathroom she would hear little slapping sounds and loud breathing coming from behind the walls. We finally found a peep hole across from the toilet...HOW DISGUSTING! My wife was also pinched and verbally assaulted with sexual taunts from several of your staff members. I was even approached for sexual favors on numerus occasions in the communal shower by other staff members. The promised 'gourmet' food turned out to be nothing but swill unfit for swines. The only thing that resembled horses was two donkeys and one of them only had three legs. Our hiking guide ran off with our back packs with all of our credit cards. The only gold panning came from your staff going through our wallets. And we never heard of nude square dancing before!

You are nothing but a filthy, sleazy little weasel. That was the worst week my wife and I ever spent in or lives. I want my money back within thirty days or you will hear from my lawyers.

A. Dear Mr and Mrs Shipley, thank you for your letter, I am so sorry you two are not happy campers, sometimes when one gets home from a vacation they feel a little grumpy when forced to climb back on the hampster wheel of life. But to answer some of your misguided allegations, I would strongly suggest you read the ultra fine print on your 'Hey Dude Ranch' contract. Ranger Bill told you, you would have an experience, I never said if it would be good or bad. You will also read that 'Ranger Bill Charities contracts with the State to help 'sexual predators' find a place to live (as you know, many communities won't let sexual offenders move into their neighborhoods when they are released from prison) while they learn new skills so they can go back in to society again. Many immigrants are now filling these jobs in the hotel and restaurant industry; Ranger Bill is simply trying to put Americans back to work; and sexual preditors already know how to make beds.

There are many signs posted at the ranch that say 'LOCK UP ALL OF YOUR VALUABLES'. You don't have to give Ranger Bill 'stink eye' because you can't read Mongolian. Oh, by the way. We have some interesting photos of you and your wife the first night you arrived. You may want to look at them before you consult an attorney. We hope to see you again next year. Most sincerely, Ranger Bill

AND FROM FRANK LAMERE IN DALTON NEW JERSEY: Ranger Bill, I just received your 'Blow-Up-Suzy' doll for $149.95, it is only a ballon with a smiley face on it. I was ready to get it on; what gives?

A. Sorry now refunds. Just play hard to get.
R.B. William Bakaleinikoff
Miramar, CA USA - Wednesday, April 14, 2004 at 17:06:27 (EDT)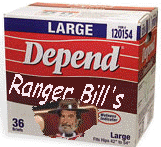 For you people over sixty who are always on the go, frequent visits to the bathroom can hamper your style. That is why Ranger Bill's Laboratories in East Mongolia has invented 'Depends Plus', yes Depends Plus gives you the freedom to keep on trucking without constant pit stops.

Here is how Depends Plus works for you: Ranger Bill's patented forty pound leakproof pouch makes you a virtual holding tank, you simply sail by gas station rest stops or smelly outhouses with comfort and ease. Hike, fish, hunt or just shop till you drop, Ranger Bill's Depends Plus can keep you bathroom-free for up to a *full month (average eater). Think of the money you can save on toilet paper alone. And Ranger Bill's Depends Plus comes in designer colors and patterns too so you can even wear them as a bathing suit! And you will know quality when you see it. Our way-underage workers in Mongolia are tethered to their work stations till each Depends Plus is done right. That is our promise to you.

A year supply is only $49.95 plus shipping and handling. Deluxe Depends Plus with built-in patented odor eaters are only $299.95 for one year plus shipping and handling.

* Not responsible for rashes, sudden loss of friends and relatives, increased stalking of wild animals, job loss or any other reason you could possibly think of for suing Ranger Bill Labratories.


R.B. William Bakaleinikoff
Miramar, CA USA - Tuesday, April 13, 2004 at 20:52:19 (EDT)

Ranger Bill thought the Easter egg hunt in Sid's Boom Boom Room Lounge parking lot went well yesterday; unfortunately a few of you thought differently. I think a bevy of my well-paid lawyers will however agree with me. .

Ranger Bill got a special deal on those eggs. They were from New Mexico and I thought the children would enjoy playing with those baby gila monsters when Easter was over. I had no idea that they were poisonous, big deal! Hey! they were only babies how much poison can they hold? The doctors say that everybody who got bit and went to the hospital will be ok in a week or so. Ranger Bill is picking up the hospital tab in the form of low-interest loans for those not covered by Medicare.

I know some of you complained about having the kids looking under parked cars for Easter eggs but most moms will agree that grass stains are harder to get out than grease, and Sid was kind enough to let me use the parking lot for free. Mrs. Peterson didn't know there was anybody under her car or she wouldn't have gunned it in reverse. She was just nervous because of drinking three or four martinis that early in the morning. Thank heaven she only ran over little Tommy's wooden leg. Did you see the look on her face? We had to send her car over to the car wash. Oh did anybody happen to see her red purse during all of the confusion?

Little Tommy is in room 213 if you want to send him some Easter candy or something. I have a few treats for sale behind the bar at Sid's Boom Boom Lounge. Well at least this was an Easter little Tommy won't forget with the car running over him and the gila monster bite on the nose.

Oh, and some of the parents also got upset with the Playboy Bunny outfit worn by Rocky. The Easter Bunny outfits were all rented out of Ranger Bill's Spring Catalog (page 34 only $19.95 per day plus shipping) because of the Easter Bunny convention in New York City. And Rocky didn't start the fist fight with the six year old either. He pulled on Rocky's tail first. You would think that a forty eight year old man could put up a better fight then that. Anyway, aside from the rain Ranger Bill thought everything went well considering I only charged $8.95 a head. There is still some Spam Loaf and Kool-Aid left in the trunk of my car if anybody is hungry. Oh, make sure you keep the gila monsters in tight cages: they can get real mean when they get big.

R.B. William Bakaleinikoff
Miramar, CA USA - Monday, April 12, 2004 at 13:08:26 (EDT)