Rock & Roll Legends ...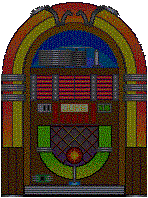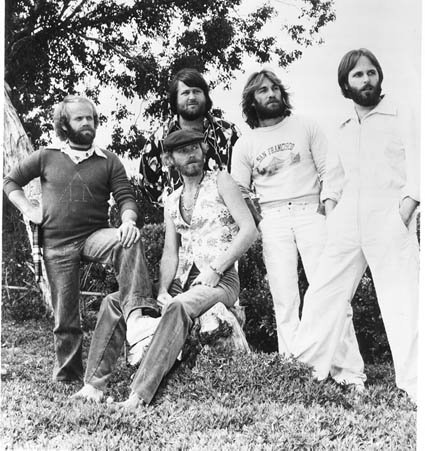 The Beach Boys
Brian Douglas Wilson (6/20/42) / bass, keyboards, vocals / Inglewood, CA
Dennis Wilson (12/4/44 - 12/28/83) / drums, vocals / Inglewood, CA
Carl Wilson (12/21/46 - 2/7/98) / guitar, vocals / Hawthorne, CA
Mike Love (3/15/41) / vocals / Baldwin Hills, CA
Al Jardine (9/3/42) / guitar, vocals / Lima, OH
Beginning their career as the most popular surf band in the nation, the Beach Boys finally emerged by 1966 as America's preeminent pop group, the only act able to challenge (for a brief time) the over-arching success of the Beatles with both mainstream listeners and the critical community. From their 1961 debut with the regional hit "Surfin," the three Wilson brothers -- Brian, Dennis, and Carl -- plus cousin Mike Love and friend Al Jardine constructed the most intricate, gorgeous harmonies ever heard from a pop band.
With Brian's studio proficiency growing by leaps and bounds during the mid-'60s, the Beach Boys also proved to be one of the best-produced groups of the '60s, exemplified by their 1966 peak with the Pet Sounds LP and the number one single, "Good Vibrations." Though Brian Wilson's escalating drug use and obsessive desire to trump the Beatles (by recording the perfect LP statement) eventually led to a nervous breakdown after he heard Sgt. Pepper's Lonely Hearts Club Band, the group soldiered on long into the 1970s and '80s, with Brian only an inconsistent participant. The band's post-1966 material is often maligned (if it's recognized at all), but the truth is the Beach Boys continued to make great music well into the '70s. Displayed best on 1970's Sunflower, each member revealed individual talents never fully developed during the mid-'60s -- Carl Wilson became a solid, distinctive producer and Brian's replacement as nominal band-leader, Mike continued to provide a visual focus as the frontman for live shows, and Dennis developed his own notable songwriting talents. Though legal wranglings and marginal oldies tours during the '90s often obscured what made the Beach Boys great, the band's unerring ability to surf the waves of commercial success and artistic development during the '60s made them America's first, best rock band. Inducted into the Rock 'n Roll Hall of Fame in 1998.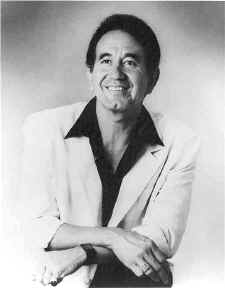 Trinidad Lopez, III
Born: May 15, 1937 ~ Dallas, TX
Trini was a poor boy from the barrio of Dallas, Texas. He remembers barely enough food for the family, the amount always determined by his parents' ability to get whatever work they could. "They worked and struggled together just to survive," he recalls. "They plowed fields together. My mother washed clothes in the neighborhood for extra income. You cannot imagine how hard it was."
Trini befriended the famous recording artist, Mr. Buddy Holly, a fellow Texan. Buddy Holly asked if Trini would like to meet his record producer in Clovis, New Mexico. Trini was elated and packed his station wagon with his group and drove to Clovis with the hopes of recording. Buddy Holly's record producer turned out to be prejudiced because of Trini's heritage. He would not allow the use of Trini's name on the record label. Trini's group agreed with the conspiracy against Trini's Latin name, and they agreed not to allow Trini to sing on the record. The record was released as an instrumental under the name "The Big Beats." When Trini returned to Dallas, he disbanded the group and assembled a new band.
While in Clovis, Trini befriended not only Buddy Holly, but also his band, The Crickets. As fate would have it, two months later, Buddy Holly was killed in the fatal plane crash along with Richie Valens and The Big Bopper. A couple of months after the plane crash, Trini received a phone call from The Crickets asking him to come to Hollywood to be their lead singer. Trini was ecstatic, and instead of flying, he used the money sent by The Crickets to drive his station wagon to Los Angeles. All through the two and half day trip, Trini kept saying to himself "Hollywood or bust, Hollywood or bust!!!" In 1960, Trini arrived in H-O-L-L-Y-W-O-O-D driving his old station wagon with "Trini Lopez and his Combo" painted on each side.
The agreement Trini had with The Crickets did not materialize because The Crickets were enjoying their royalties and record sales from Buddy Holly's past hit recordings and were in no hurry to perform. The $200 Trini left Dallas with was gone. He had promised he would be sending monies to his parents from his engagements in California. Out of desperation, Trini Lopez, the soloist was born. Trini got a job at the Ye Little Club in Beverly Hills. He was hired with no group, just with his guitar. His engagement was to last two weeks and ended up lasting a year.
The first big break came at the popular night spot called P. J.'s. Here, he was spotted by the world famous record producer, the late Don Costa, who then brought Trini to the attention of his longtime idol, Mr. Frank Sinatra. The great singer recognized a fellow stylist and immediately signed Trini to an exclusive eight-year contract with his own label - Reprise Records. Reprise released his first album, "Trini Lopez at P. J.'s," which became a No. 1 hit album. Out of that album a single, "If I Had a Hammer" became a No. 1 hit in twenty-five countries.
In July, 2001, Trini was honored by the group "Nosotros" in Beverly Hills, California. He was presented with the prestigious Living Legends Award. On April 12, 2002, Trini was inducted into the Las Vegas Casino Legends Hall of Fame at the Tropicana Resort & Casino in Las Vegas, NV.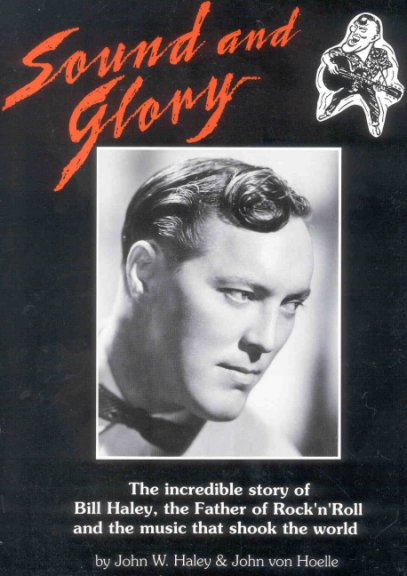 The first rock 'n' roll record to achieve national popularity was "Rock Around the Clock"
made by Bill Haley and the Comets in 1955.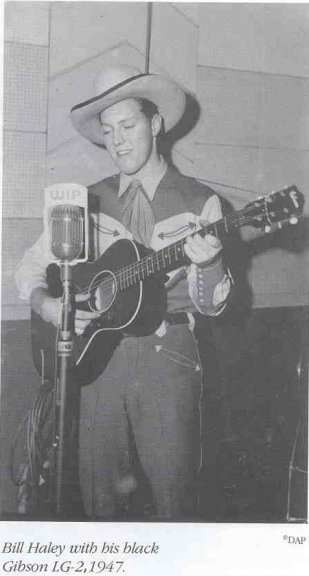 Bill Haley would have been 79 years old on July 6, 2004. He first started performing
country music in the mid-40's. In 1954, bandleader Bill Haley and His Comets recorded a landmark rock and roll song, "(We're Gonna) Rock Around the Clock," which held down the Number One spot for eight weeks and went on to sell 22 million copies worldwide. He died of a heart attack in 1981. Inducted into the Rock & Roll Hall of Fame in 1987.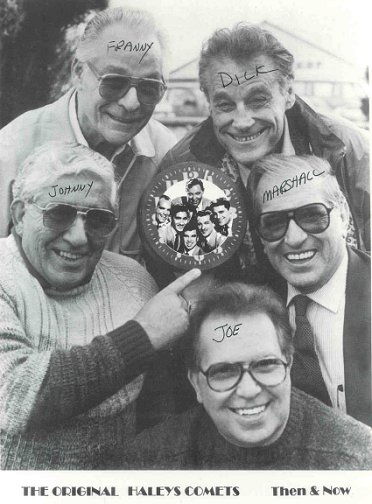 A great current picture of the Comets, minus Bill Haley ...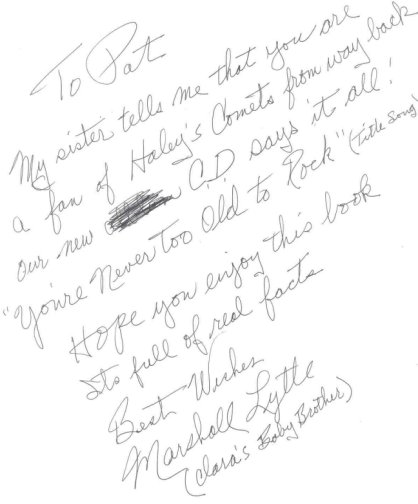 Our classmate, Pat Wagner worked with
Marshall (Bill Haley & The Comets) Lyttle's sister ...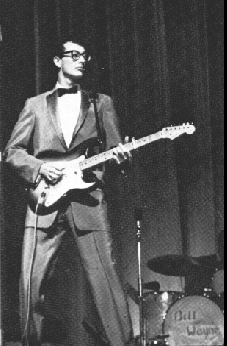 Born in Lubbock, Texas
September 7th, 1936

It's hard to believe, but at the time of Buddy Holly's death at the age of twenty-two he had only been recording for two years. Yet during the course of his short career he had written and performed the most progressive music of his time. Laying the musical foundation for musicians generations too come were powerful and filled with promise. Sadly, Buddy would never realize their potential.
In January of 1959, Buddy, along with Ritchie Valens, the Big Bopper and other acts embarked on what was billed as the winter dance party. Holly, Valens, the Bopper and their pilot perished en route to a performance when their four-seat chartered plane crashed shortly after take off from Mason City, Iowa on February 3, 1959. It was a terrible tragedy, as Don McLean hauntingly
put it in his 1971 hit " The day the music died." Inducted into the Rock & Roll Hall of Fame in 1986.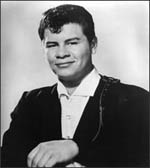 Richard Steven Valenzuela was born on May 13, 1941, in Los Angeles, California.
Ritchie Valens was only 17 when he recorded his classic version of LA BAMBA,
backed by his self-penned DONNA. The result was a double-sided smash that
is the foundation of the Richie Valens legend. His overnight success was cut short
by that fatal single- engine plane crash. His other notable songs include
"Come On Lets Go", "That's My little Susie", "Little Girl" and "Ooh My Head".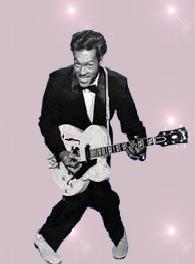 Charles Edward Anderson Berry
Born: 18 October 1926, St. Louis, MO

Of all the early breakthrough rock & roll artists, none is more important to the development
of the music than Chuck Berry. He is its greatest songwriter, the main shaper of its
instrumental voice, one of its greatest guitarists, and one of its greatest performers.
Quite simply, without him, there would be no Beatles, Rolling Stones, Beach Boys,
Bob Dylan, nor a myriad others. There would be no standard "Chuck Berry guitar intro,"
the instrument's clarion call to get the joint rockin' in any set...
Chuck Berry was inducted into the Rock & Roll Hall of Fame in 1986.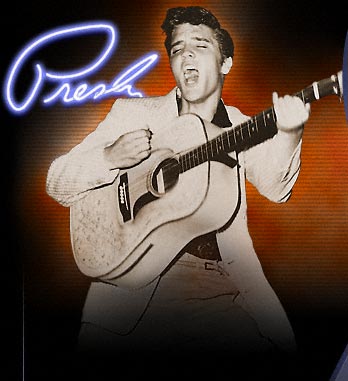 Elvis Aron Presley
Born: January 8, 1935
Birth place: Tupelo, Mississippi
Died on August 16, 1977 in Memphis Tennessee
Elvis got his first recording contract with Sun Records. His act was known as the Hillbilly Cat and the Blue Moon Boys. The back-up boys were Scott More ( guitar ) and Bill Black ( bass ). They were later joined by D.J. Fontana on drums. These three also formed part of the band in some of Elvis's movies.
In 1956 he was in the movie "Love Me Tender", playing the part of Clint Reno. And in 1957 Elvis played a southern country singer, Deke Rivers, in the movie "Loving You". In this movie Elvis dyed his naturally light brown hair to a darker shade of black blue, which he later was to keep.
Jail House Rock is considered by many as Elvis's best ever role. He threw himself at the chance to play a role of a young rebel, and choreographed the title number. Inducted into the Rock & Roll Hall of Fame in 1986.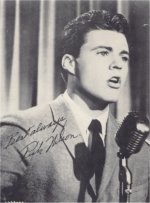 Date of birth May 8, 1940
Teaneck, New Jersey, USA
Date of death: 31 December 1985
De Kalb, Texas, USA. (plane crash)
In 1957 Ricky sang a rock & roll song, Fats Domino's "I'm Walkin" on his
family's weekly TV show--"Ozzie & Harriet" ... After that, tuning in was just
a wait to see if Ricky was going to sing. Sure he was the original teenage idol.
But Rick Nelson's place in rock 'n' roll history is much more significant than that.
By presenting sizzling numbers each week on his family's TV series, he helped
the rebellious musical genre earn acceptance. Later in his career,
Nelson pioneered the melding of country with rock.
Rick Nelson was inducted into the Rock & Roll Hall of Fame in 1987.
Please post a note on the Islander Message Board if you would like to see
your favorite Rock & Roll Legend on this page ...
midi is "Old Time Rock & Roll"
originally recorded by Bob Seger ...