NIGHTMARE MACHINES
by Guy Martin Webb
Sunday ~ April 25, 2004
I am writing this to warn anyone who might be considering attending the "Dream Machines" event in Half Moon Bay next year. Be afraid. Be VERY afraid.....
If Hunter Thompson had decided to create a backdrop for "Fear and Loathing in Half Moon Bay", he could not have picked a better scenario than faced Mary and I when we rang the door bell of Bill Bakaleinikoff's mansion in the exclusive Miramar district of HMB. Bill's bell causes the claxon for all of the light house fog horns up and down the coast for 10 miles to scream in stereo, like the mating call of two luxury liners that meet half way across the Atlantic and proceed to mount each other in a frenzied struggle to determine which will be on top....
With a ghostly creak that reverberated against the marbled entryway, the 20 foot tall Honduran 'poo wood door slowly opened...... There stood a cross between Howard Hughes in his final years, Sterling Haden as the Commanding General in "Doctor Strangelove", Dean Stockwell in "The Boy With the Green Hair", and Walter Matheau in "The Sunshine Boys". With a voice similar to Riff Raff from "The Rocky Horror Picture Show", Bill screamed "I don't want any more Girl Scout Cookies, and I'm not returning the Scouts that delivered the last bunch either...." The fact that he was wearing a Stetson, brown trench coat, John Lennon "granny glasses", and obviously hadn't cut his toe nails in several years, merely added to the bazaar image before us……..
After I calmed him down by explaining who we were, Bill immediately ran into the massive kitchen and returned with two huge trash bags and a list that he had prepared earlier in the day. He explained that his wealthy neighbors absolutely loved providing the grist for the frequent scavenger hunts that Bill has become famous for. Bill suggested that the three story tall homes were the most bountiful. An hour and a half later, Mary and I returned to the Bakaleinikoff mansion with our bags bulging with tins of Beluga caviar, bottles of vintage wines, enough cheese to support a fondue party using the Rose Bowl for a heating vessel, trays of pate', bowls of fruit, and enough nuts to stock an entire mental hospital. Bill had explained that when his doorbell trumpets sounded, his neighbors usually left town for a week or two, not bothering to lock, much less close their windows and doors in the panic, and that Mary and I should just help ourselves to anything in their pantry or wine cellars that was on his gourmet list...
I thought that this practice was a bit unusual, but my lovely and patient wife reminded me that the rich were VERY different from us and that we should not question their practices, lest we look foolish and embarrass our host. This shopping without checking prices was something I could definitely get use to…..
We ate and drank far into the night, being regaled with Bill's stories about how he had once again out-smarted the finicky tree- hugging environmentalists who delighted in admonishing dog owners to pick up after their pets. Bill has become so good at fooling them that he sometimes lays in wait along the jogging trail, 15 feet or so up a redwood tree, and pelts the unsuspecting health-nuts with steaming "lawn cigars" that he carries for just this purpose.....
Saturday morning found us driving from one breakfast place after another, trying to find one that hadn't experienced Bill and that didn't point at the "WE RESERVE THE RIGHT TO REFUSE SERVICE TO ANYONE" signs with a knowing and disgusted glare... Bill explained that this was a game that the local restaurant owner's play in order to curry his favor and attract his business, playing "hard to get" like all high class eateries. Unfortunately, word of mouth being what it is, back to Bill's we went. After convincing his dog Rebecca that she should allow us in, we ended up eating peanut butter Pop Tarts at "Chez Bakaleinikoff" and plotted out the evenings festivities with our other co-conspirators who were arriving from various spots in town and from around the country under the "Predator Protection Act".
Already in Half Moon Bay, acting as "moles" for the group to facilitate the smooth take-over that we had planned were:
Patti "The Rose" Malmen Motta and her body guard/gardener Pete "Leatherneck" Motta
Eddie "Edzo" Pond and his apprentice/son Chris "The Iron Chef" Pond
Soon to arrive were the out of town specialists:
Carol "I've Never Had to Duck" McConkey Younger
John "The Velvet Painter" Strong
We assembled at the Motta's arboretum/design house for a stunning demonstration of what can be done with neighbors landscaping and furniture when they have gone on vacation. Patti said that night vision goggles were a gardener's best friend when shopping at "Midnight Nursery". Better than scanning a catalogue, Patti simply drives around Half Moon Bay and observes what roses and other shrubs work well in the immediate micro- climate and then she comes back in the evening when it is cooler (and darker) to re-locate them. Each specimen has its own name tag to give Patti the cool Rosarian appearance of knowledge. Patti also gave us a demonstration of tie-dying table cloths with vintage red wine that would put Martha Stewart to shame.
Bill hid his hoard of lawn cigars under various throw pillows, fruit baskets, floral arrangements and in the several fireplaces and Swedish heaters, both upstairs and down, for a sort of Easter egg hunt that we soon forgot about when Pete made the mistake of showing us their well-stocked wine cellar. We played "try to guess the color" of the various vintages of wine, wearing blindfolds that Pete and Patti kept in Kleenex box-like dispensers next to their bed. John Strong won this one by using Robert Kincaid-esq descriptions of the exact color invoked, by chugging an entire bottle. (Artists can be SUCH show offs.) When the Motta's were finally able to round up all of the empty wine bottles and beer cans and put them in the proper recycle containers, a crew from the local BFI franchise stood at the curb clapping and yelling "ole", as their children were going to be able to go to college after all. When we returned to the house, muffled echoes could be heard from the now empty wine cellar. We turned on the light to see Bill chained into a full-leather outfit straight out of the basement scene from "Pulp Fiction"… Carol, brandishing a whip and wearing an Uma Thurman-like yellow leather jump suit ala "Kill Bill, l and ll", was teaching OUR Bill the true meaning of discipline such as he had never learned in the Marine Corps. Bill, promising to reform, by using hand gestures and pitiful squeals around the rubber ball shoved in his mouth, convinced Carol to unlock his fetters and we began to lay out the plan for the next days "Dream Machines" event….
Bill convinced us all that traffic would be horrible in the morning and that we should meet just before dawn on a hill SOUTH of Half Moon Bay, on the EAST side of Cabrillo Highway…This was counter-intuitive, as the airport was NORTH of town. Telling us not to worry and to leave everything in his hands, he collected $20 from each of us, explaining that the extra $5 fee would go toward greasing the proper wheels to insure good seats to view both the planes AND the cars. Mary and I drove back to our campsite with John and went to sleep in anticipation of an exciting day when we awoke……..Alas, sleep was not to come, as John kept whimpering from the campers Penthouse water bed loft, crying for the "blank-eee" that he had forgotten at home. He spent the rest of the time until dawn rocking back and forth, making the camper shake like a nervous cat in a rocking chair factory….
When we all finally gathered at the agreed upon site, dawn found us drinking cold coffee and eating frozen Twinkies, as John's rocking had doused the pilot light on our campers water heater, and we were unable to use the stove or the shower. The scene that greeted us as the sun rose higher, lighting the hillsides and unveiling the surreal sight of hundreds of magnificent automobiles and planes. These weren't just ANY planes and cars, but the finest specimens any of us had ever seen….Edzo asked why we had to stay so far away from these mechanical beauties, observing them through binoculars. Bill assured us that this was much better, because we didn't have to stand in any lines and there was no need to mingle with the "Unwashed" down below. I reminded him that WE were unwashed, not having bathed or showered since leaving home, and having slept in the same clothes for three days in a row….Bill excused himself and ducked over the crest of the hill. Almost immediately, the roars of Meshershmitt's, P-51's, Corvettes, antique tractors, blown Studebackers, hot rods, lowered Mercs, Pontiac Bonneville's, jets, motorcycles, low riders, thumping stereo systems, dragsters, supercharged PT Cruisers, go karts, and tricked out UPS trucks filled the air………
War planes from World War's l and ll, buzzed over us, performing beautiful loop de loops, Emelmanns, dive bombing runs, mid-air duels, strafing passes, and barrel rolls. When viewed through binoculars, these graceful beauties brought back memories of every war film we had seen and reminded us that the fight still goes on today in far reaches of the world. The static display of automobiles drew thousands of people, many dressed in various colorful costumes and sporting odd hair dos and multiple body piercing. Our bleary, hung-over eyes tried to focus on the distant scene of cars and airships with increasing difficulty, as vast quantities of beer and wine were once again consumed, as much through habit as through need. Our pale Caucasian skin began to redden as the day wore on, except for Bill who claimed Hawaiian/Russian blood. His eyes were the only thing to grow redder as the panorama before us went on.
Bill kept unexplainably excusing himself for short periods, and those absences seemed to coincide with the various stages of the program that Bill had generously sold us at a discount the night before. Helicopters buzzed overhead from the rides that were being sold. Both the planes and helicopters, as well as the hot rods and classics had the look of Lilliputian models when viewed through the binoculars that Bill had provided at a reasonable fee. Turning the instruments around on a whim, I was surprised to see the people near the airstrip looked like giants next to the airships that were taking off and landing. The scene reminded me of King Kong swatting at the bi-planes from the top of the Empire State Building….. Feeling the "call of nature" Patti walked down the hill towards what Bill had described as the designated rest area.
Patti hadn't descended more than 60 ' downhill when she stepped bare feet into a 1/20 scale model of an Aston Martin Volante DB6 convertible with her right foot. Speeding downhill rapidly on one foot, she finally touched down with her left foot into a similarly scaled 1/20 1988 Lamborghini Countach 5000 Quattrovalvole, which, being considerably faster, caused her to do the splits, crossing Cabrillo Highway at speeds that set alarms off at the Highway Patrol headquarters in Santa Cruz……Veering left on her faster foot, Patti ended her journey on top of a teen-age model airplane buff, who's joy stick took on the look of an ad for Viagra…
Ranger Bill had been exposed……..He had positioned us on a grassy knoll above the Half Moon Bay Model Airplane strip, and had laid out his vast collection of die-cast cars in such a manner as to deceive us in to believing that there actually was a Half Moon Bay "Dream Machine" show. Kids flying models of war planes and helicopters maneuvered their most prized possessions through the balmy blue skies, tiny models of Civil War soldiers, painted to look like tattooed Hells Angels standing in lines at Porta-Potties, food booths and souvenir stands. From a distance and under the influence of sleep deprivation, alcohol, age, and adrenaline, we wanted to believe and so we did. A robotically controlled sound system, boosted by hidden speakers, sub-woofers that gave the pulsating feel of the sound and fury produced by the REAL Dream Machines….
Perhaps it didn't matter…..Maybe, just like "The Wizard of Oz"; it was what we perceived to be the truth that mattered. We all got together and told tall tales about how cool we had been and had become…… We laughed and hugged…..John Strong once again came to a party alone and left with two girls (some things never change…….) Thank you Carol, for making this reunion possible.. Thank you Pete and Patti, for being such gracious hosts and providing such a beautiful venue Saturday evening, thank you Chris and your beautiful lady for the wonderful food and ambiance Sunday night and relieving your parents of the onus of the farewells, thank you Edzo and Patti for parenting a great son…
Most of all, thank you Bill Bakaleinikoff for providing the format for this reunion…Your endless energy, fascinating remembrances, generous sharing of your home, food, and friends. Without your energy and enthusiasm, this weekend and these memories would never have come to be. I am sure you are worth every cent that the city of Half Moon Bay paid you to insure that Mary and I forget ANY plans we may have had about moving north. I am SO looking forward to meeting your lovely and patient wife Ellen, and hope we can host you both, as well as your elegant dog, Rebecca. Our puppy, Misty, demanded to know all about her, and is VERY excited about her first sleep-over.
A warm thank you should be extended to John Strong for pointing out to me that my two year old PT Cruiser had less than 12,000 miles on it and that I never take my wife of 37 years, Mary, anywhere.
Photographs to follow……….
DREAM MACHINES EVENT
... Half Moon Bay, CA ~ April 25, 2004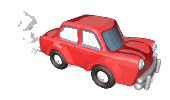 Thanks to Patti Malmen & Guy Webb for some of these GREAT photos ...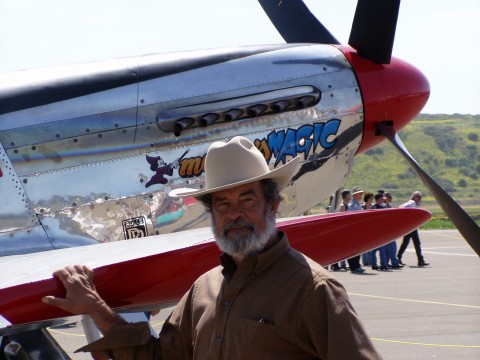 Ranger Bill pictured standing proudly next to his P-51 Mustang,
prior to piloting it on the "Around The World In 80 Daze" contest.
Good Luck Ranger Bill!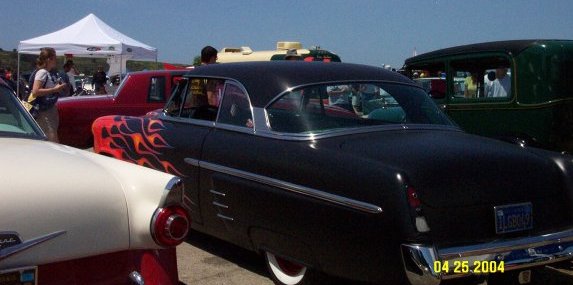 Chris Pond's (Eddie's old car) '53 Merc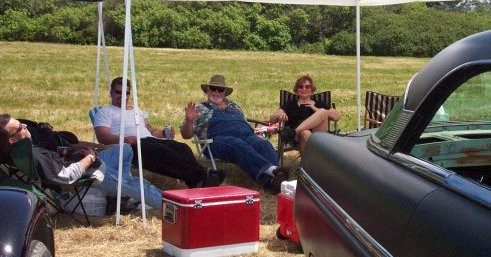 Chris Pond, Eddie Pond & Patti Malmen Motta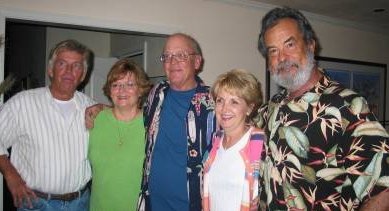 John Strong, Patti Malmen Motta, Guy Webb,
Carol McConkeyYounger & Bill Bakaleinikoff
at Pete & Patti's beautiful home in Half Moon Bay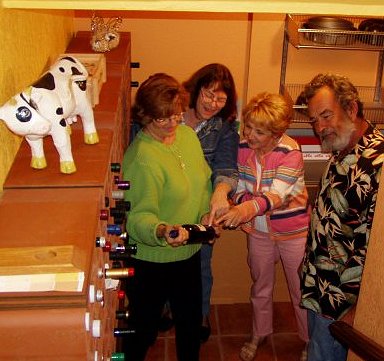 Pete & Patti have a wine cellar and Bill is saying to himself ...
GEESH, I NEED ONE OF THESE!!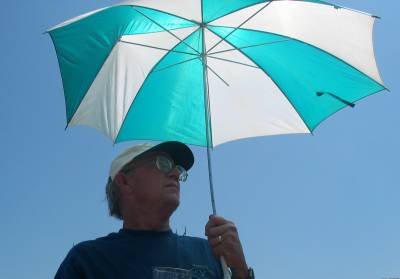 It was a sunny day, so Guy brought his umbrella!!!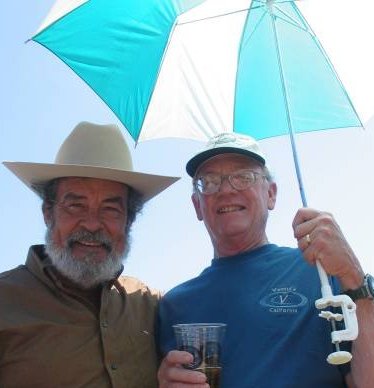 Guy was happy when he found someone (Ranger Bill) to get under his umbrella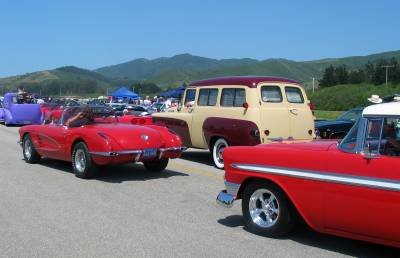 Some neat old cars ...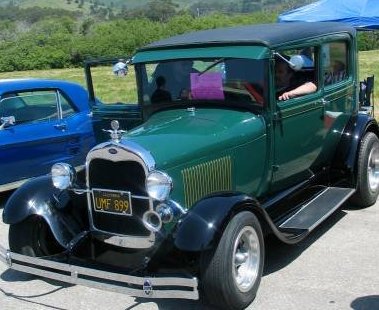 More neat old cars ...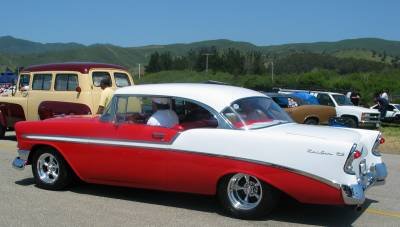 A beautiful '56 Chevy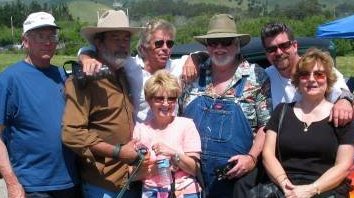 Guy, Bill, John, Carol, Eddie, Chris & Patti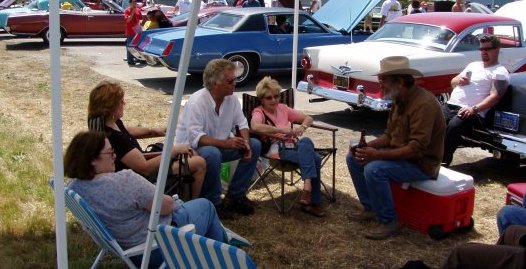 Mary Webb, Patti, John, Carol, Bill & Chris Pond sitting on car bumper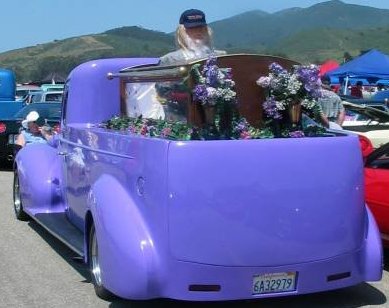 Cool hearse with fake dummy that kept popping up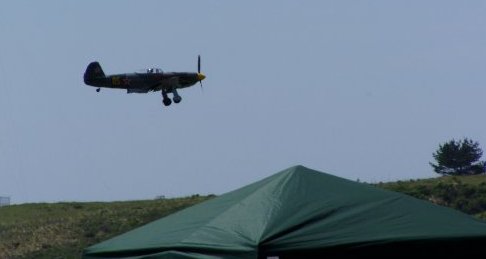 There were also old cool airplanes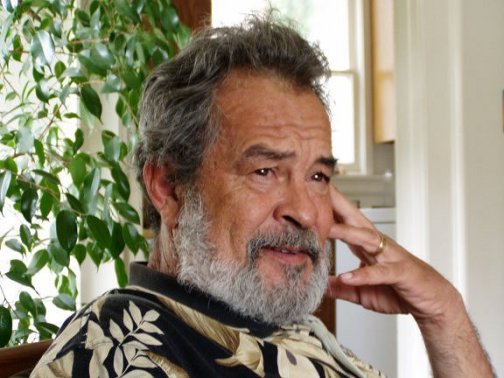 Bill Bakaleinikoff ... if he ever writes that book, this picture should be on the back of the cover.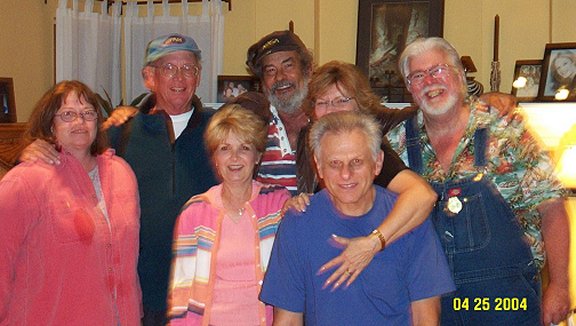 At Chris Pond's home for a barbeque are ...
Mary Webb, Guy Webb, Bill Bakaleinikoff, Patti Motta, Eddie Pond
Carol Younger & Pete Motta