Island Bike ... Bob Brann's Honda Shadow

The "Island Bike" is getting around... and picking up a lot of Islanders along the way.
The "Mystery Rider" shown here climbed on like she knew what she was doing.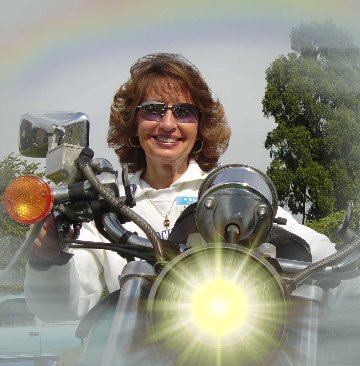 Stowe Killingsworth, in front of his GORGEOUS Home.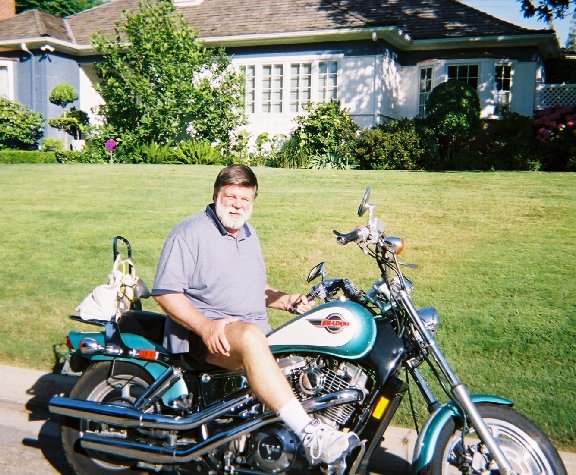 I had to do a little riding to get this one! Stowe lives in Bakersfield.
I caught him for just a few minutes during his busy schedule there
while I was on my way up to Fresno, CA for the evening. It was great
to see you Stowe. I'd love to have you come to our picnic this year, but
frankly, your trip to Europe is a very good excuse to miss it!
Darlene Mason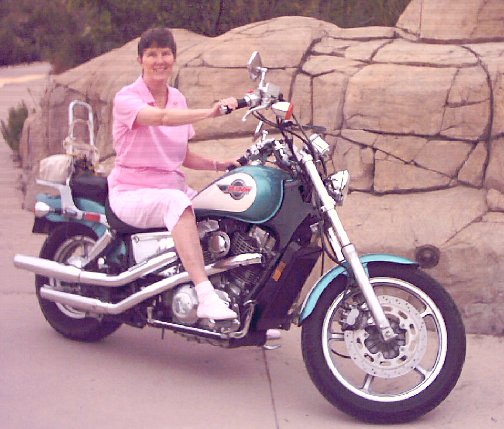 Darlene Thomas (now 'Mason') also lives in San Diego, I've tried my best to get
her to meet me for this photo... and finally caught up with her at 'Mission Trails'
park in San Diego. Darlene's agreed to putting forth her best effort to attend any
local events we put together.
Looking Good... Mark.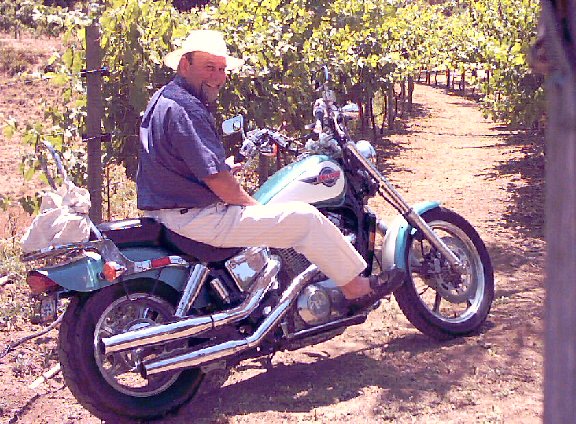 Mark Morrison, right at home in his vinyard in Jamul, Ca.
Mark makes some of the finest wine I've had... and I had to
try it, and try it, and TRY IT... just to be sure I got it right!
What a fun day we had visiting and drinking his great wine and telling stories.
I'd still be there if Mark didn't have to go to the store.
Thank's Mark, for a really fun visit.
Is there a DOCTOR in the House???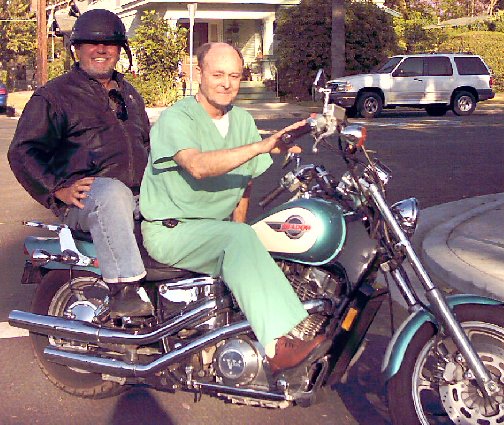 There is now... Tim Riley was all "scrubbed" for a ride. We used to ride
up to the Coffee House in Malibu on my old Arial Square Four... c.1961
That's what this shot reminds me of. After he got off the bike, he turned to wife, Mimi
(who took the photo...) and said... "...can I get one?" to which she replied with a
resounding "NO!" Well, Timmy... how about a game of "shuffleboard" then?
Now, here's one from the past you won't find at just "any old party":
Sorry it's "Fuzzy" but that's his "nickname".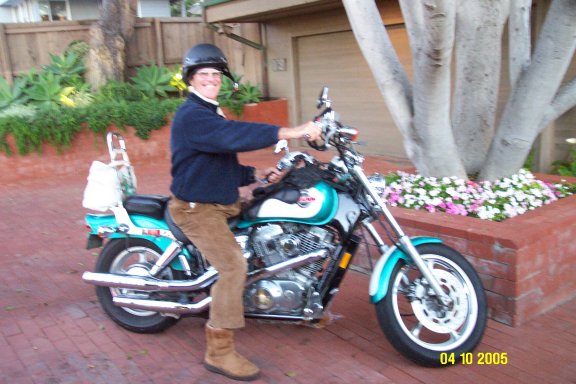 Yup... that's Tony Childs at his home in Del Mar, CA April 10, 2005
Now here's an old FART that I gave a lift 'cuz he just looked like he wanted a ride: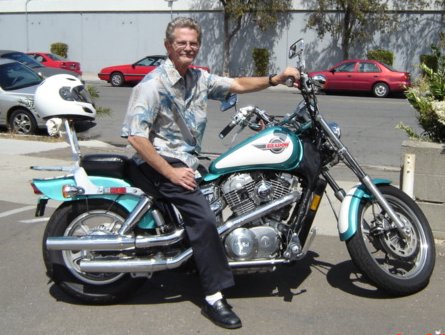 Jerry Carpenter; parking lot of the "Chicken Pie Shop" in Normal Heights May 6, 2005
Here's a group I ran into who were seasoned riders as well as old friends.
#1 the Ring Leader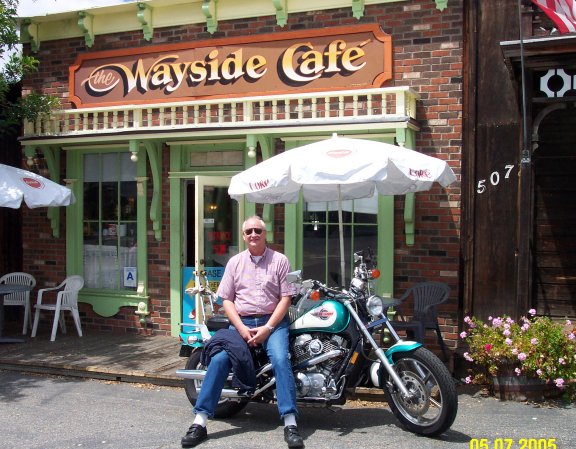 Pat in the hat, (but there is no hat) Wagner... Wayside Cafe, Fallbrook, CA May 7, 2005
#2 Our "Harley Mama"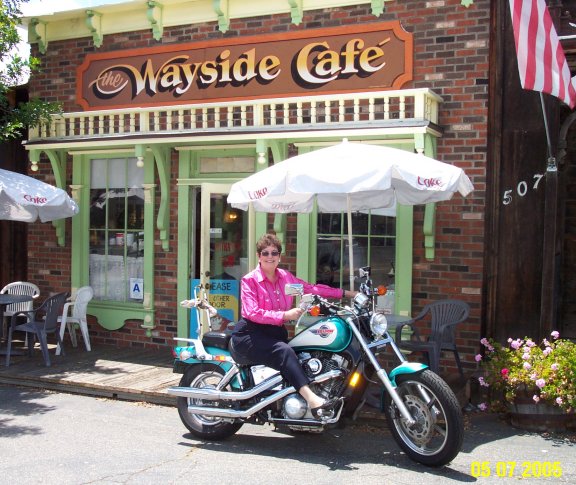 Connie Gerlough, Wayside Cafe, Fallbrook, CA May 7 2005
(an interesting story: Connie has some time on a bike... does it show?)
#3 Our FIRST CLASS HOOD...
I can't even believe this one has lived to tell all his stories...(and they're great stories)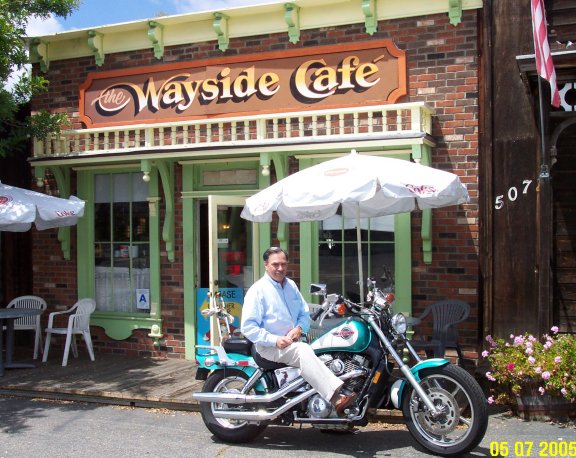 YUP 'tis Rich McKinney... Wayside Cafe, Fallbrook, CA May 7, 2005
hasn't ridden since his last spill on the 15 a few years back.
#4 (All the way from "COALINGA" and looking better every day)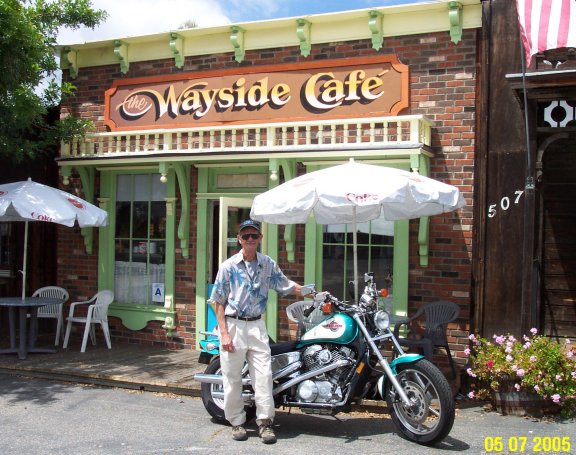 Jerry Carpenter, Wayside Cafe, Fallbrook CA May 7, 2005
WHO'S NEXT??? come back here and find out.
The Island Riders
When you hear the roar of the pipes,
And smell the smoking tires,
Get your ass out of the sack,
And join the rest of us "Liars".
We're the Island Riders,
We all live in Huts of Grass,
But when were on the Highway,
We KICK some REAL BAD ASS.