Long-Lost Yearbook; by Judy Vandegrift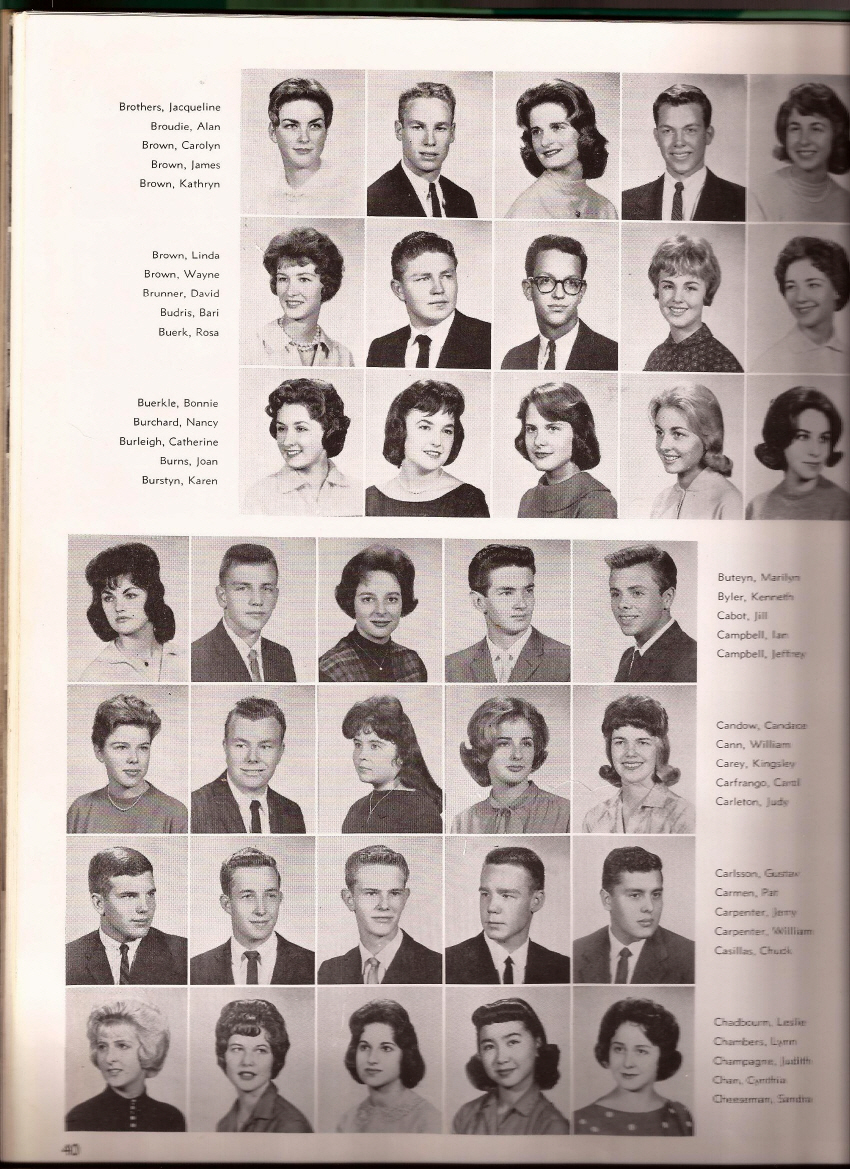 Judy Vandegrift & Jeanne Murphy
June 17, 2003. Miracles do happen and this web site was responsible for one of them! My senior year at Uni my yearbook disappeared after all my friends had signed it.
Last Saturday, more than 40 years after the disappearance of the yearbook, I got a phone call from Carol McConkey and Bob Brann saying they had some very important information for me. Someone named Jeanne had gotten onto the Islander web site saying she had something that belonged to an "Islander" and wanted to return it. Carol spoke to her, found out it was a Uni High, Chieftain yearbook, and figured out that it belonged to me because all the signatures in the yearbook were "To Judy" and one was signed by "Your Cuz, Kathy Ellsworth", my cousin. Carol called Kathy and Kathy told her how to get in touch with me and the next day I was talking to Jeanne about how she had acquired my yearbook.
I remember very well loosing the yearbook. I think I gave it to someone to sign. That person thought I was coming back to get it and left it on a picnic table at Uni. Bye Bye yearbook. I never saw it again. I remember going home and crying because I had not only lost the yearbook, but also all the signatures inside. I remember my parents telling me not to cry, that I would never even remember it in 10 years which really didn't help.
About 30 years ago Jeanne's mother gave her a box of stuff and in the box was this yearbook. Her older stepbrother had taken it over and attached pages to it for his friends to sign. Jeanne could tell that the name of the original owner had been torn out. She vowed that one day she would get this yearbook back to its rightful owner. Her search became a lot easier with the Internet and finally she found a Uni High Web site that led her to this very Web site. She made her query and the rest is history. This is amazing. Thank you so much Jeanne for trying to figure out who it belonged to. This is such a great story that it makes me glad that the yearbook was missing all these years. How special, getting it back.
Jeanne and I are planning to meet and she will return the yearbook to me in person. It will be very exciting to see all those pictures and read what all those folks had to say 40 years ago. So I want to end this email with a big thank you to Jeanne for all her persistence in finding me. And thank you to Carol, Bob, and Kathy for helping her figure out that the yearbook belonged to me. And I'll let you all know when I finally do have that reunion with my long lost yearbook!
August 31, 2003. I finally got my Islander yearbook back 42 years later. Above is the photo of Jeanne Murphy giving the yearbook to me. (I'm the one on the left wearing orange.) Jeanne and her husband and daughter live in Southern California and took a trip up North and stopped by Sea Ranch where I live to bring the yearbook back to me. We spent a wonderful afternoon together as I looked through the yearbook and relived a lot of old memories. A number of things left me very curious as I read through the signatures:
The comment about Balboa and the ice cube tray and how much fun it all was. (I remember Balboa but have no idea what the ice cube tray was all about.)
The person who said "I love you passionately." but left no signature.
The person who said, "Don't forget not to ________ you know what." (I'm sure hoping I've never ________ you know what.)
So many thanks to Kathy Ellsworth Grandi, Carol McConkey Younger, Bob Brann, and especially Jeanne Murphy for getting my yearbook back to me.

Judy Vandegrift