~ Our Rides ~ ...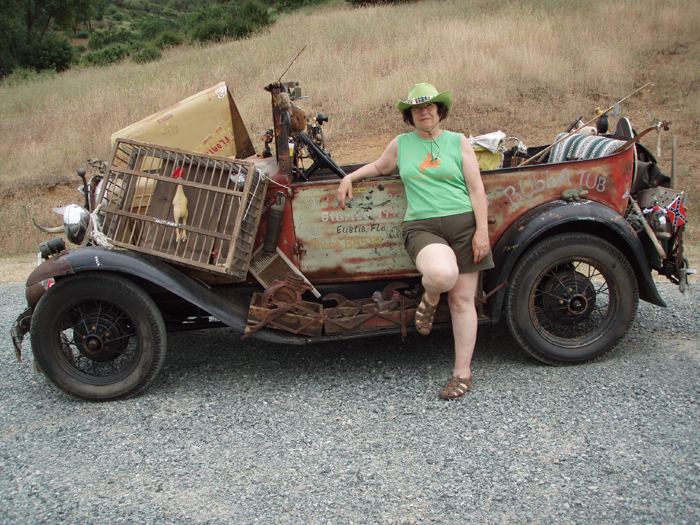 Dale Luster Silverman
July ~ 2009
ABOUT BUBBA
"This car is not just another pretty face! It has many upgrades and parts restorations: Pro-built long block engine with stainless valves, adjustable valve lifters; Pertronics ignition and coil. Spark plugs, wires, cap and rotor, aluminum Weiand head, Scalded Dog down-draft intake manifold with a ford 94 carburetor, "leakless" water pump, 4-blade fan, rebuilt starter, 12-volt alternator with wide pulley, electric fuel pump with regulator, gauge & fuel shutoff, master electric battery switch, master fuse for starting and accessory systems, new engine mounts, tube header connected to a 3" exhaust (yes, 3 inch!) routed thru a stock looking tapered muffler with mandrel-bent tail pipe with a brass trumpet bell for exhaust tip, factory rebuilt T-5, S-10 5-speed transmission with open drive, PRO 5.0 short-shift shifter, new woven brake linings fit to turned steel drums with safety bands, all new brake rods, all brass bushings replaced and reamed to fit, wheel bearings, seals and front dust caps new, new original shocks, shortened pitman arm to improve steering, rebuilt steering box, kingpins & bushings, tie-rod ends! New speedometer cable and working speedo. Motometer with brass flying Mercury mascot.
BUBBA is safe, dependable and a whole lot of fun!
AIN"T NO STRIPPED DOWN MODEL!!...HECK, AIN'T RETIREMENT GREAT!?!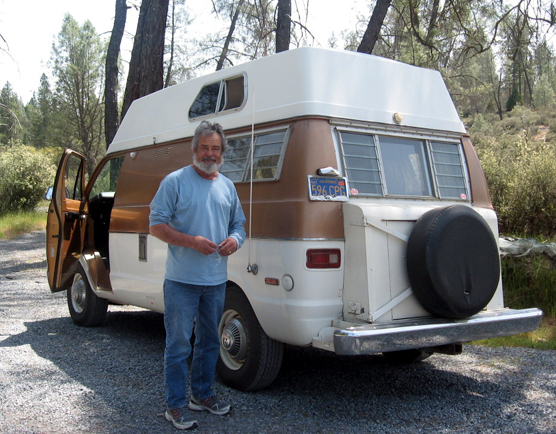 Bill Bakaleinikoff's 1971 Dodge (factory conversion highboy) Van "Goldie"
July ~ 2009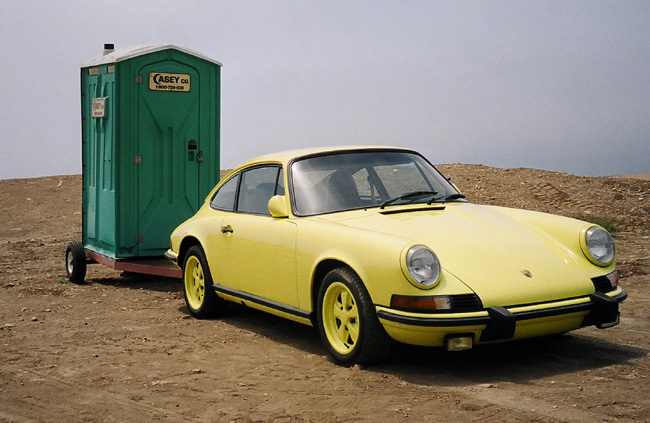 Stuart Kern's 1970 Porsche 911S Hauls Ass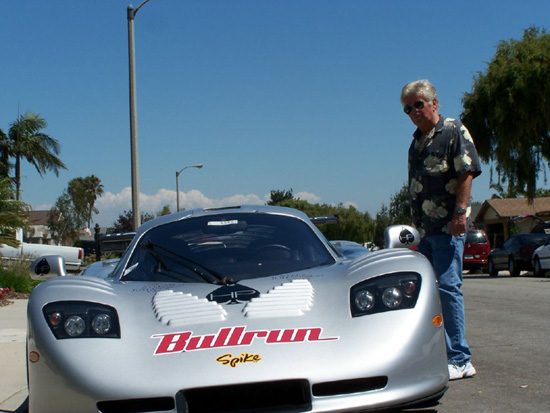 John Strong ~ Sept. 2006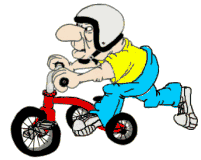 Bob Brann ... San Diego, CA ~ February 2006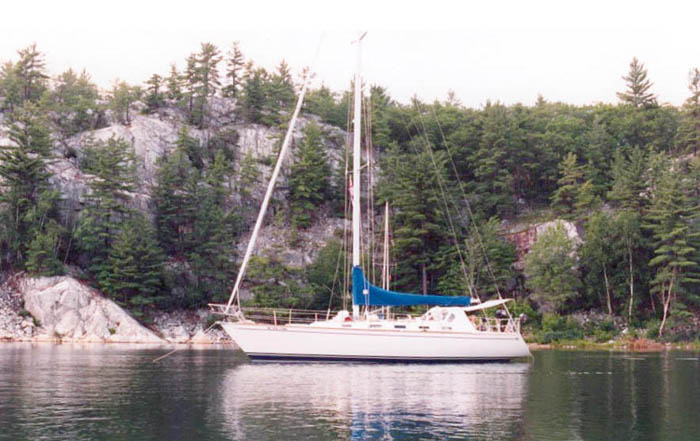 Tekla Miller's GORGEOUS 40' Tartan Sail boat "Wildflower"
at Cover Portage Cove, North Channel, Lake Huron, Canada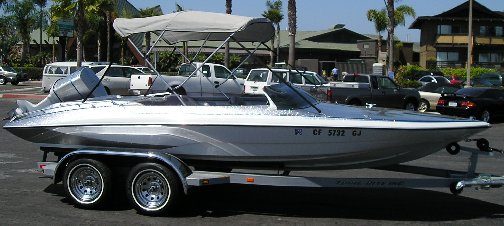 Rich McKinney's "007" Ocean Jet ... Mission Bay, 9/05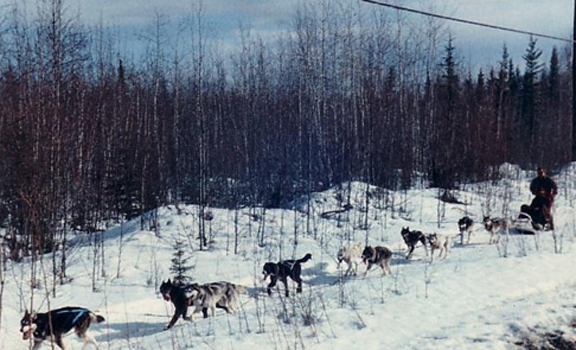 That's Steve Roach's ride of choice ... mushing 10 dogs!!!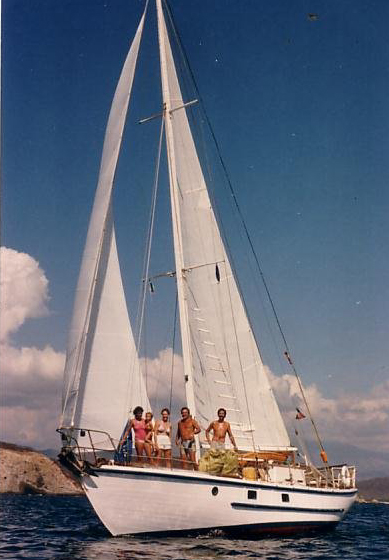 Another ride of choice for Steve Roach was his
4 mos. trip up the coast of Mexico in 1988 on
this wooden boat ... no motor. Steve likes
to do things the hard way!!! ;-)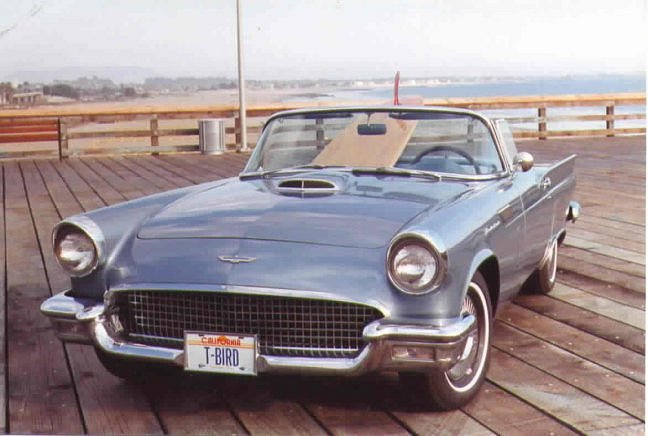 Guy Webb's 1957 T-Bird ... only 34,000 ORIGINAL miles ...
some guys have all the luck!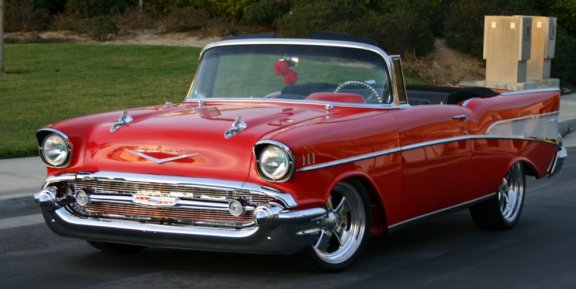 Doug Weitman's FLAWLESS 1957 Chevy Convertible ... LOVE the red dice!!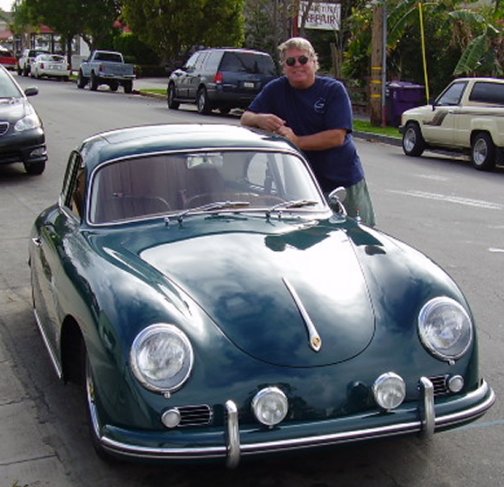 Steve Roach and his 1958 PERFECT Porche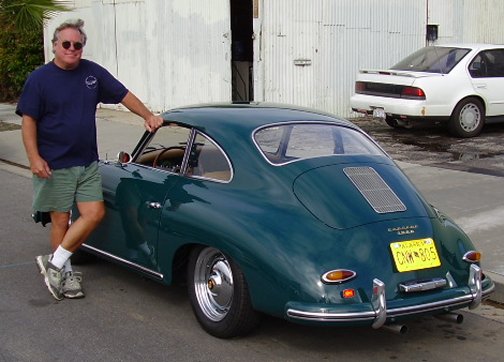 Steve Roach and his '58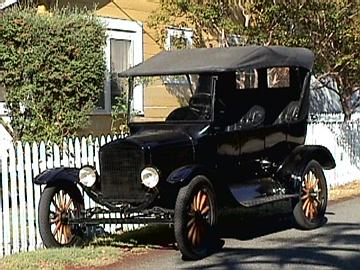 Eddie Pond's 1924 Model "T" Ford - built the same year "Uni" opened.
Eddie owns and drives this car today... He wants to be a "Keystone Cop"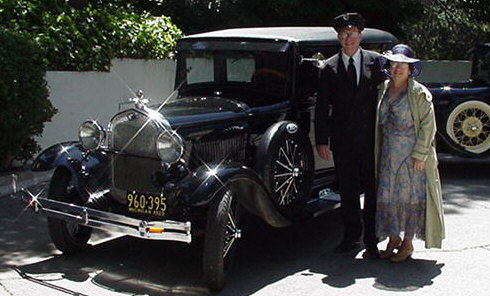 Dale Luster's, and husband Dave's Model A ...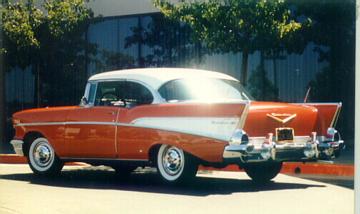 Eddie Pond's Five-Seven...mmmmmmm a real creampuff.
my ALL TIME Dream Car...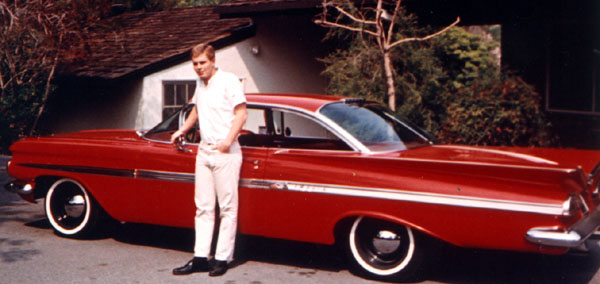 John Findlater (1961) and his FIRE-ENGINE RED 1959 Chevy Impala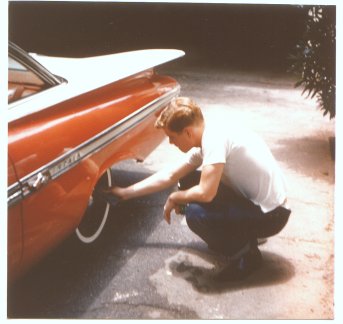 John making sure those hubcaps are shiny!!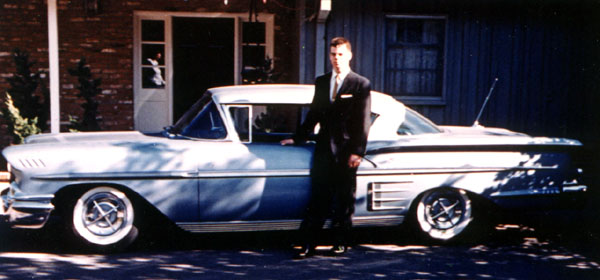 Stowe Killingsworth (1961) and his Shiny 1958 Chevy Impala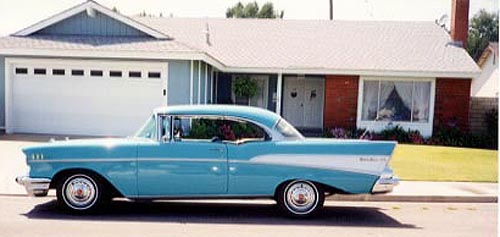 Craig & Diane (Graveline) Johnson's SUPER 1957 Chevy ...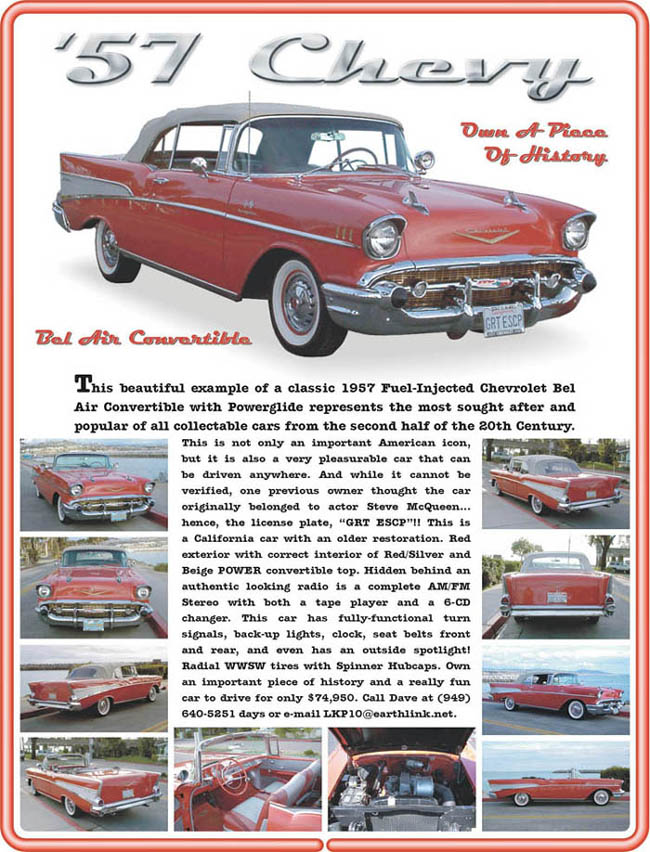 This is Dave Kuhn's '57 Chevy ... note the license plate ... "Grt Escp" ... it used to
be Steve McQueen's Chevy. Dave will be taking it to Las Vegas at the end of May and
putting it up For Sale in case you are interested.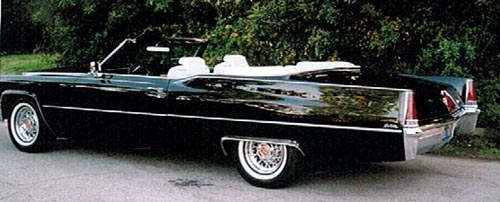 This 1969 Cadillac de Ville Convertible belongs to Mark Speizer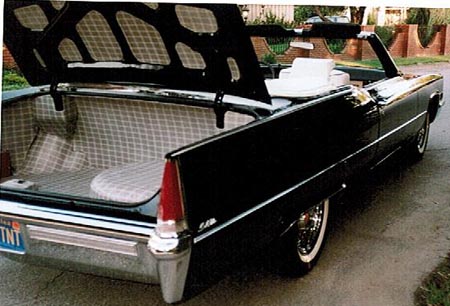 This trunk is bigger than my bedroom!!!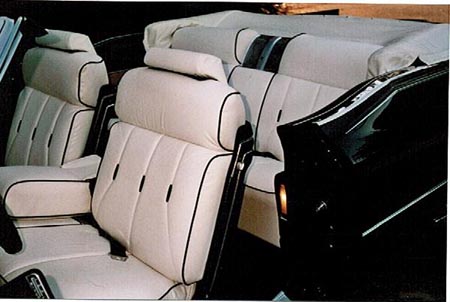 No Eating allowed in the beautiful interior ... :-)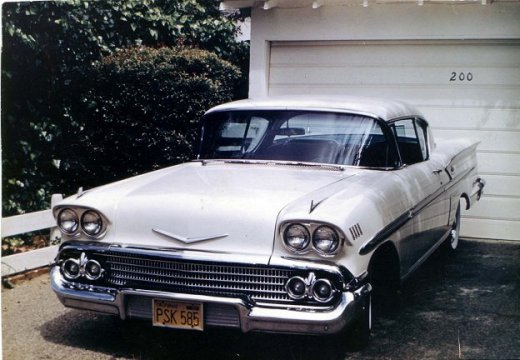 Randy Barnard's 1958 Chevy Impala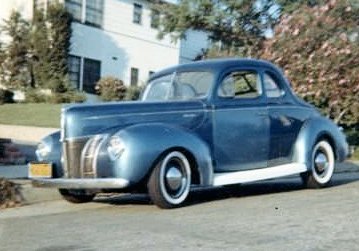 Don Parson's 1940 Ford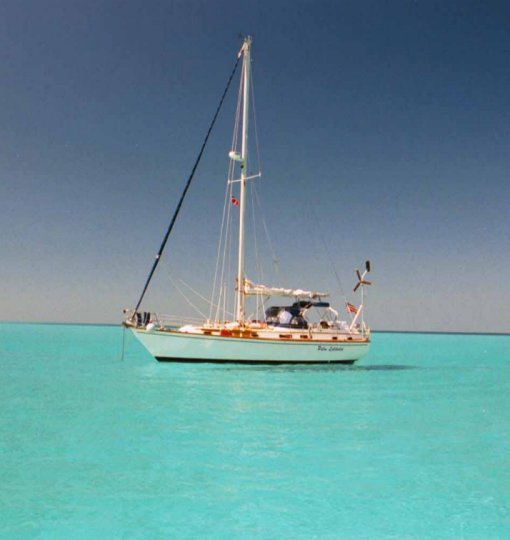 Eat your HEARTS OUT... now THIS is a RIDE... This beauty sleeps
12, and belongs to Augie Wagner... appropriately named Palm Latitudes,
Augie has navigated her to places I can't even spell.
Augie is One SERIOUS Islander...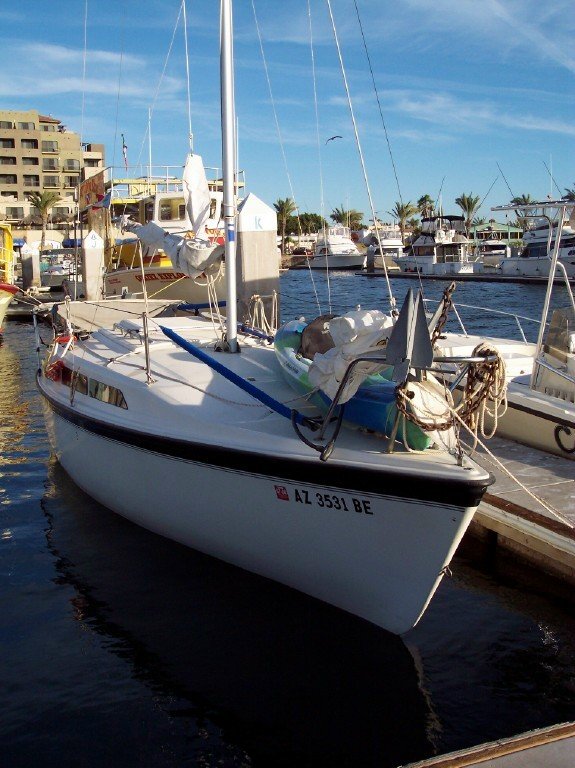 Gary's Hale's Ride ... San Carlos, Mexico...
sailboat..."NUEVA VIDA"
A Islander sailing the islands of the Sea of Cortez ...