Side Bar ...from Carol McConkey
I have received some really interesting emails. When a person is searching for someone, they usually go to Google.com and type the name they are searching in the search bar. And, because of our "Famous Uni Kids" page, our site may come up as a reference page. I have received more than 30 emails from people (classmates as well as perfect strangers) basically stating that they had looked at the "Famous Uni Kids" and wondered why I had not included " X ", or they had questions. Here are a few examples of the emails I have received and answered.
"I am an old friend from 40 years [ago] do you know Manuella Theiss?... I have stuff she wrote and we want to do a book on
the Ladies of Venice
... Shanna Baldwin"
Manuella is the daughter of Robert Taylor (actor) and Ursella Theiss (actress). And, Manuella, if you ever check in to our site, I have Shanna's email address and will send it to you.
************************************************************
"I am writing a book about Bobby Driscoll and saw your web page. I know his family lived in Cheviot Hills and he went to Richland Avenue Elementary School. Perhaps the feeder school University High School? Or Universal School."

Many Thanks,
Brian Keith O'Hara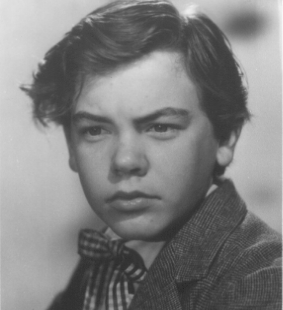 Bobby Driscoll was one of the most popular child stars of his day. He was in some wonderful Disney movies such as "Song of the South" and "Treasure Island". He graduated from Uni in 1955.
Bobby moved to New York to try stage work and turned to alcohol and drugs. At one point, he was reported to have told Jackie Cooper that he just wanted to prove to the world that he really was a legitimate actor. He just wanted to be remembered. The reality, of course, is that this young man didn't need to prove anything. His talent had been demonstrated to the world many times.
Even being remembered was to be denied him, however. In March, 1968, at age 31, he was found dead in a tenement building in New York. No one knew who he was, and he was buried as a John Doe in a pauper's grave. This talented young man died completely alone and without friends.
It was a year later, due to a chance checking of fingerprints, that it was discovered that the John Doe they had buried was actually Bobby Driscoll.
I have written to Brian several times and he has been kind enough to send me (via email) his book on Bobby Driscoll. I am truly enjoying it and I will ask Brian to let us know when it comes out in print.
************************************************************
"Hi I am a student and I saw your web site listing names of people that went to UNI. I never heard of it. What is UNI ? Is it a school for performing arts? Is it still in operation? I read about April Atkins, strongest girl. Do you have any newspaper clippings or photos you can send on this performer? Can you insert any in an e mail to me so I don't have to download or I can give a mailing address. Thanks. Have a great day!!!!"
I wrote back with a little info on Uni, and received the following response ...
"Hi, I thought it was a special private school for performing arts students, I am a little sad, being a student myself. I thought UNI was some sort of performing arts school. I was ready to send an application!!!! Nice web site you put up. Cool. Wow. Your high school had all those famous show business people. Wow. I guess that's Southern California huh? Regarding April Atkins, I had recently been reading many articles on world famous " muscle beach " and she was featured in several articles. Quite amazing. There was a photo posted showing her easily lifting almost 700 lbs, ten times what she weighed. Astonishing. Another photo showed her lifting 4 people at one time easily. Astonishing. It is too bad the school never put out a yearbook, it might have featured a few photos. Did April do strength shows at the school?

I have heard the Santa Monica historical society has many many photos of acrobats and strongmen from " muscle beach " so if I ever get to the society to read about muscle beach will send a photo if I see one if you want me to. Won't happen for at least one or two years though. I live hundreds of miles away from Santa Monica. Happy Thanksgiving"
I remember April on the playground of Pacific Palisades Elementary School. She would fly across the monkey bars like they weren't there. At the time, I remember thinking I was pretty good until I saw April on the monkey bars!!
And it turns out the student had way more information than I did ... here are some photos that she sent of April Atkins at Muscle Beach, Venice, CA 1954... remember ... April is 11 years old in these clippings and that is April doing all the weight lifting .... she is listed in the Guiness World Book of Records as the "World's Strongest Girl".