Mrs. Fields' Introduces 'Stokabunga'; Energy-Boosting Cookie Created by 1950s Teen Surfers
SALT LAKE CITY (July 20, 1999) - They say every recipe has a history, yet none could be as fascinating as the legend behind the "Stokabunga" - a cookie with a purpose that will make its debut July 1, 1999 in selected Mrs. Fields' Original Cookies stores nationwide.
This giant "cookie-of-all-cookies" emerged in 1956 as the result of an experiment of sorts by teenage pals Mike Donahue and Steve Roach, two avid Southern California surfers who spent endless days trying to master the complexities of the Pacific Ocean at Santa Monica State Beach. With a mission to stay out on the waves for as long as possible, Donahue and Roach sought a time-saving, energy-producing way to minimize interruptions necessitated by eating, and at the same time satisfy their insatiable adolescent appetites.
So when the surf was down, the inseparable pair headed to the kitchen, where Roach - utilizing skills from a high-school home economics course - concocted a quarter-pound cookie that would provide extra energy for these ominous sunup to sundown surf sessions. It wasn't long before fellow surfers began to request the cookies, which were loaded with sunflower seeds, pecans, chunks of chocolate, slivered almonds and a variety of other delicious energy-producing sources. In fact, the two found that not only did the cookies make great bartering tools for obtaining free rides to the beach, they soon caught on among a small-but-faithful group of beach-goers as the 1950s tasty equivalent of the power bar.
Nearly 40 years later, Donahue sent a batch of the cookies as a kindly gesture to a close friend who worked at a large corporation in New York. A huge hit among her co-workers, Donahue was soon shipping the cookies by the dozen to the friend each month, packing them in boxes with a return address labeled "Wrinkled Old Surf Dog Bakery and Boat Works." It became a running joke in the company mailroom.
Little did Donahue know that one of her co-workers had connection to the management at Mrs. Fields', the world leader in specialty retail cookies. The venture capitalist soon convinced President/CEO Larry Hodges to try the cookies at an upcoming board meeting in Los Angeles. Donahue quickly called Roach, who whipped up his best batch and shipped them overnight to Los Angeles. A few months later, Hodges, so impressed with the taste of the cookie and the story behind it, called Donahue personally at home to acquire the recipe. The rest is history.
The Stokabunga, which weighs in at 5 oz and measures ¾" thick and 5 1/8" across, will be offered at more than 300 Mrs. Fields' stores nationwide starting July 1999.
"With such an interesting history and distinctive taste, we're confident these cookies are going to create quite a buzz in malls and other hot spots this summer and for a long time to come," said Hodges.
Today, Donahue and Roach, both 56, are still close friends, still surf, and still make and consume the cookies for themselves, family, close friends and fellow surfers. Donahue resides in Kihei, Maui, Hawaii, while Roach lives and works as a seasonal chef/fisherman in Alaska but owns a house near Donahue in Hawaii.
Roach said that although the Mrs. Fields' discovery came as a pleasant surprise, he always had an optimistic vision for his beloved cookie. "I knew my cookies would have some kind of future, but in my wildest dreams I never thought the king of cookie retailing would offer the Stokabunga to millions of consumers at the most popular snack shops in the world."
What makes the Stokabunga such an unbeatable treat with a promising future? Roach has a simple, unarguable theory: "They're just big and good."
Mrs. Fields cookie and pretzel bakery companies include 489 Mrs. Fields stores, 108 Original Cookie Company stores, 307 Great American Cookies' stores, 226 Pretzel Time stores, 170 PretzelMaker stores and 62 Hot Sam Pretzel corporate owned stores. In addition, there are approximately 87 Mrs. Fields and 38 PretzelMaker international locations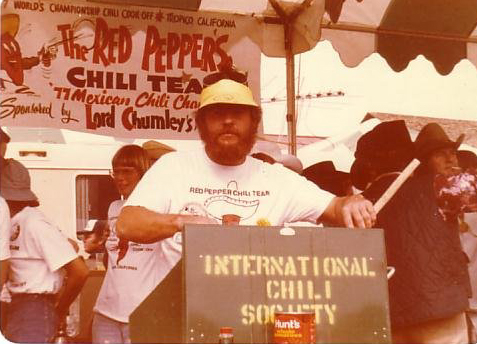 October 1977
Steve also won 1st prize at the 11th Annual World Championship Chili Cook-off
in Ensanada, Mexico